Greater Switzerland just might take off
22 July 2010 GAZETA WYBORCZA

The Swiss far-right wants to expand the country by annexing German, French, Austrian and Italian border regions, reports Gazeta Wyborcza. The Swiss People's Party (SVP) floated the idea in June but only now has submitted a draft proposal calling for necessary changes to the constitution to make the enlargement possible. The regions in question are the German state of Baden Württemberg, French departments Alsace, Savoy, Jura and Ain, Italian provinces Aosta, Como, Varese and Bozen and the Austrian province of Vorarlberg.

If the SVP plan were implemented, Switzerland's population would increase by 17 million (it currently stands at 7 million) with Stuttgart becoming its largest city. "We should facilitate integration of these regions which are suffering under the rule of the European political class that has no interest in them whatsoever. Their citizens have been looking jealously at our self-governing state and long for a democracy with human face", explain SVP politicians.

The Swiss authorities have not commented on the proposal which nevertheless caused much glee in the German embassy in Bern. Its employees are said to have been wondering when the Swiss will "start demanding access to the sea". Their good humours disappeared at seeing the results of a poll conducted by the Swiss weekly Weltwoche. It showed that 63% of nearly 1,800 German, Italian and Austrian polled living in the border regions said they were in favour of joining Switzerland. Hardly surprising considering the fact that salaries in Switzerland are much higher than in, for example, Germany and that Germans already constitute a majority of lecturers at many Swiss universities.
スイスの極右がフランスドイツイタリアなどの国境地帯をスイスに併合する案を検討している、と。そうした方が賃金も高くなるからということで、賛成している住民も多い、と。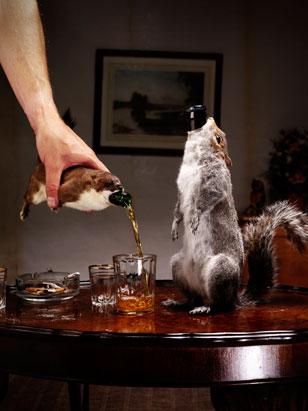 What Recession? BrewDog -- The $775 Beer Bottle
Check out these expensive items for the rich.
BrewDog, an independent Scottish brewery, has unveiled the strongest and most expensive beer in the world -- The End of History -- available now UK. It is 55 percent alcohol and sells for $775 a bottle. The blond Belgian is infused with nettles and juniper berries and served from

unique bottles made with stuffed animals dressed in eccentric outfits

. Just 12 bespoke bottles have been produced, using seven dead stoats, four squirrels and one hare. (Courtesy BrewDog)

 スコットランドの775ドルのビール。ビールは動物の剥製でできているというが、これは趣味が悪い、と日本人のぼくなんか思っちゃう。
FRIDAY, JULY 23, 2010
US-UK rift over Lockerbie release

The Scottish minister who released the Lockerbie bomber has refused to appear before a US senate committee to explain his decision, deepening a transatlantic rift between the US and Britain over the case.

US senators have issued formal requests for two British ministers to appear at a hearing in Washington to examine the decision making process leading up to Abdelbasset al-Megrahi's release in August last year
 米国の上院議員が、スコットランドとイギリスの大臣をテロリスト解放について、問い質すために米国の議会に招聘。スコットランドの大臣は断った、と。
 ヒエー、プードルはつらいよ、といったところか?
「核抑止力に基づき報復聖戦」北朝鮮、米韓演習に警告

2010年7月24日
 ということだが、
23 July 2010
North Korea warns of nuclear 'sacred war
'
 米国は、

In response, the White House said it was not interested in a "war of words" with North Korea.
 言葉の戦争には興味ない、と冷たい。
China warning

China has criticised the plans and warned against any action which might "exacerbate regional tensions".
 中国は地域の緊張の悪化を警告している。
 ここらへん、脅威をどう評価するか、難しいところ。
アフガン会議 支援とともに監視が必要だ(7月24日付・読売社説)

日本も09年から5年間で50億ドルの支援を約束した。日本を含めた支援国は、援助資金が適切に使われるよう、厳しく監視していく必要がある
 金だすだけ、声援贈るだけではだめ、ということは、核問題、マグロ問題、慰安婦問題、その他でも同じ。
 監視、報告、指導、といった国際的な地位を確保したい。
Two Muslim women thrown out of pool for wearing 'burkinis'
Two Muslim women were ordered to leave a swimming pool in a French holiday village on the southwest coast for wearing body-covering "burkinis".

Henry Samuel in Paris
Published: 2:57PM BST 22 Jul 2010
 フランス、写真のようにイスラム女性が、全身を隠した水着をつけてはいったら追い出された、と。

In this case, the women at the Rives des Corbieres holiday camp were told to leave as they had breached the camp's rules allowing only conventional bikinis or one-piece swimsuits "for hygiene reasons".
 衛生上の理由だと言うが、この理由付けはちょっとあやしい。
THURSDAY, JULY 22, 2010
Essen: German students bullied by Muslims

Often they're ridiculed, often they're even beaten. In class barely anybody speaks to them, they keep back, rarely voice their opinion - in short, they're not integrated in school. But these are not immigrant children in a German school, but German children in a secondary school (5th-9th grades) in Essen.

German TV channel Das Erste reports.

"They're not threatened with a knife every day. but the children of immigration background clearly have their way here," says the school principal. The female teachers have to deal with students saying "don't speak to her, she's just a German slut."

"When it's Ramadan, there's a state of emergency. The last time it went so far, that they spit in our food," says the home-economics teacher. "People always say that foreigners are discriminated, but here it's precisely the other way around." A Lebanese Arabic teacher says that the German way of living is very clearly being rejected by his students, the attitude is almost chic.


The German children respond with aggression or by over-adapting their behavior. In the playground you find them in the corners. Sebastian, an ethnic German 16 year old, feels bullied by the Muslim students, and is often involved in fights. Juli is a friend of the devout Saleh from Palestine. She calls herself a Muslims, which means: no parties, no alcohol, no sex.

The teachers try to respond t the situation with clarity and by upholding German laws and regulations, but also by mother-tongue classes and understanding for the Lebanese.
 ドイツ。よく外国人が教室でいじめられる、と言われるが、ドイツではドイツ人の生徒が外国人にいじめられている、と。
 冷静に対処しているようだが、多民族・多文化主義社会の混乱と苦悩がかいま見える。
Holmes Says:
July 24th, 2010 at 12:06 pm
http://www.debito.org/?p=7051#comment-198661
According to Professor Kazumi Fujimori of Musashino University, a clinical psychologist and author of the book "Gakko Trauma to Kodomo no Kokoro no Care" (School trauma and care for the minds of children), the use of the pictures could almost be considered a form of "power harassment," when a person abuses their position of authority to harass others in the workplace.

Ridiculous, so hangman is a form of harrassment now. But Prof. Fujimori has to keep busy to justify his retainer for another year; I ll pass this onto the several teachers I know working at Musashino University, so they know not to play hangman in their classes.

By the same "PC taken to extremes" token, could Japanese high schools and universities please not ask western teachers to work at Xmas and Easter, as it is offensive for religious and cultural reasons; doing so cold be a form of "power harrassment" of foreign employees. Touche..

By the same "PC taken to extremes" token, could Japanese high schools and universities please not ask western teachers to work at Xmas and Easter, as it is offensive for religious and cultural reasons; doing so cold be a form of "power harrassment" of foreign employees. Touche..
 趣味の有道ブログ。 
ハングマン
についてだが、これについて投稿しているJPでも、当ブログでもなく、本件についてではない投稿の有道ブログのコメント欄に投稿している。
 嘘や日本・日本人に対する憎悪を擁護し、それに対する批判は阻止してもらえるブログのコメント欄のほうがいい、と判断したのだろう。臆病なのか?卑怯なのか?それともなんなのか?
 よろしければ
こちら
でどうぞ。
 で、コメントの内容は、クリスマスやイースターで西洋人の先生に手伝ってもらうのはやめろよ、となんだかわかわからないことを言っている。
 こうした"議論"を感謝する外国人特派員がいる。